In the 1920's, Prostitution was legal, brothels flourished. Petty thieves, drug dealers and street walkers packed the all-night bars of Montmartre where cheap sex and cheap booze drew the tourists. The art students' ball took over the streets in a public orgy of alcohol and sex. These years were called les annees folles (the crazy years)
You've probably seen those images, but you likely have no idea who she is.
Alice Ernestine Prin, nicknamed the Queen of Montparnasse, and often known as Kiki de Montparnasse, was a French artist's model, nightclub singer, actress, and painter. She flourished in, and helped define, the liberated culture of Paris in the 1920s. She became a fixture in the Montparnasse social scene and a popular artist's model, posing for dozens of artists eventually becoming a muse and lover of Man Ray whose images of her are above. She has frequently been called the first feminist.
Nudity was not uncommon or controversial. Naughty postcards were definitely a thing.
Josephine Baker is another fabulous example of the modernity and licentiousness of 1920's Paris.
Josephine Baker sashayed onto a Paris stage during the 1920s with a comic, yet sensual appeal that took Europe by storm. Famous for barely-there dresses and no-holds-barred dance routines, her exotic beauty generated nicknames "Black Venus," "Black Pearl" and "Creole Goddess." Admirers bestowed a plethora of gifts, including diamonds and cars, and she received approximately 1,500 marriage proposals. She maintained energetic performances and a celebrity status for 50 years until her death in 1975. Unfortunately, racism prevented her talents from being wholly accepted in the United States until 1973.
She broke out onto the stage and into fame with this dance. It was like a choreographed orgasm. She was known for looking for the man with the perfect penis. Casual sex was normal and it was taken for granted that friends all slept together.
Le Cabaret de L'Enfer was a Hell-themed café in Paris' red light district (aka Pigalle, the neighborhood of the Moulin Rouge), created in the late 19th century and operating up 'til sometime around the middle of the 20th.
Once inside, the revelers witnessed a snake transform into a devil, were heckled by Satan, and were warned repeatedly of the scalding temperature.
And right next door to the Cabaret de l'Enfer was Cabaret du Ciel ("The Cabaret of the Sky"), a divinely themed bar where Dante and Father Time greeted visitors and comely ladies dressed as angels pranced around teasing patrons. The evening's entertainment was presided over by St. Peter himself, who anointed the boozy crowd.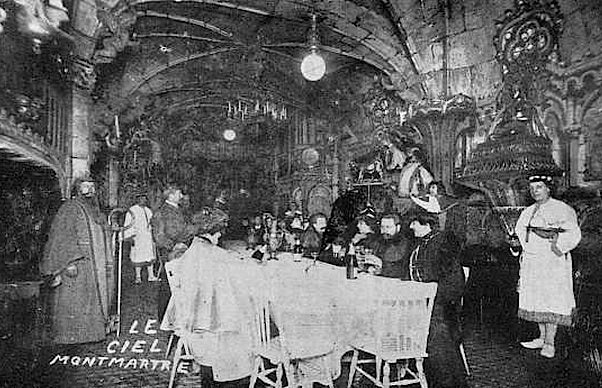 1920's Paris was full of debauchery and sin, but much is the same and it is still the cultural mecca of the world. Even if you can't still party with Kiki De Montparnasse or visit Heaven & Hell.